Paying too much for credit or personal loans?
We can help.
First American will offer up to a 3% rate reduction on unsecured loans (Includes personal, installment loans and credit cards) refinanced from another institution.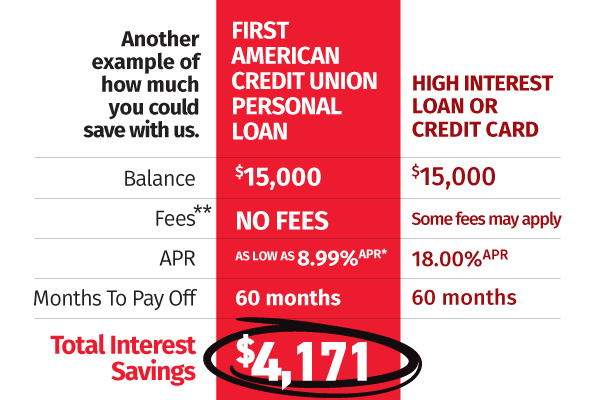 Personal/Lifestyle Loans
Get affordable financing for almost any need, with customized terms and monthly payments that won't break your budget.
* APR = Annual Percentage Rate. Rate match floor: 8.99% apr. Qualifying members must agree to comparable remaining term and balance. Member must bring in proof of current rate (example: Bank Statement). Balances up to $5,000 qualify for 2% apr reduction. Balances over $5,000 qualify for 3% apr reduction. The refinance must be from another financial institution, offer is not valid for First American Credit Union refinances or consolidation. Rates, terms and conditions are subject to change and may vary based on creditworthiness, qualifications, and collateral conditions. All loans are subject to approval. Not all applicants will qualify for the lowest rate. Your actual APR will be disclosed at the time of disbursement. **No fees are charged for application or obtaining these loans. Standard late fees will apply to late payments.